SEMINAR KEBANGSAAN INSTITUT STATISTIK MALAYSIA KE-13 (SKISM-XIII) & MESYUARAT AGUNG 
             SKISM XIII telah berjaya diadakan pada 30 Mac 2019 bertempat di Dewan Al-Ghazali, FSKM, UiTM Shah Alam. SKISM adalah merupakan aktiviti ilmiah tahunan Institut Statistik Malaysia (ISM) yang telah diadakan semenjak tahun 2007. Pada tahun 2019, UiTM telah terpilih sebagai menganjur bersama dengan tema "Analitik Data: Peranan Statistik Dalam Penyelesaian Masalah". Tujuan seminar ini diadakan bagi mengumpulkan ahli akademia, penyelidik, saintis dan pengamal industri dari seluruh Malaysia untuk memupuk kerjasama dalam bidang Sains Statistik melalui perkongsian idea dan perbincangan penyelidikan. Disamping itu, Mesyuarat Agong Tahunan ISM juga telah dijalankan yang  bertujuan untuk membincangkan berkenaan halatuju bidang Sains Statistik melalui kegiatan dan aktiviti yang bakal diadakan bagi merancakkan lagi peranan ISM dan Universiti awam dan swasta serta sektor kerajaan dan industri dalam memberi sumbangan kepada masyarakat dan negara. Dalam seminar ini, ucapan perasmian oleh YBhg. Dato' Sri Dr Mohd Uzir Mahidin, Ketua Perangkawan Malaysia  telah disampaikan oleh Timbalan Perangkawan Malaysia Puan Nazaria Bt Baharudin. Majlis juga telah dimeriahkan dengan ucapan dari dua penceramah jemputan iaitu  Prof Dr Abdul Aziz  mewakili ahli akademik dan Puan Fatimah Almah Saaid yang merupakan Data Scientist Telekom Malaysia bagi mewakili pengamal industri. Sesi pembentangan selari turut diadakan melibatkan 14 abstrak kertas kerja. SKISM juga telah diserikan dengan Booth Pameran oleh Jabataan Statistik Malaysia (DOSM) yang diketuai oleh En William Chin.
Diharap dengan penganjuran SKISM 2019 di FSKM dapat membuka ruang bagi mempertingkatkan hubungan kolaborasi dan budaya ilmiah antara penyelidik, cendekiawan, ahli akademik dan pengamal industri.  
Jawatankuasa SKISM 2019 merakam setingggi-tinggi penghargaan kepada pihak Pengurusan FSKM, ISM, DOSM, pembentang kertas kerja dan semua peserta di atas sokongan dan kerjasama dalam menjayakan SKISM 2019.
"Bersama Memasyarakatkan UiTM" Nukilan:
Dr Norshahida Shaadan – Pengerusi SKISM 2019
SKM has successfully organised another community outreach programme on Saturday, 28 April 2019. The award-winning 1 Telecenter 1 Community (1T1K) Outreach Program currently in its 4th cycle reached out to the community of Seksyen 24 Shah Alam and Amanah Ikhtiar Malaysia via entrepreneurial workshop on e-commerce. The workshop was conducted by Pn Nur Atiqah Rochin Demong and Pn Norfadzilah Abdul Razak of Alibaba Global Ecommerce Talent Group, with 21 facilitators comprising our very own student volunteers. The participants whom were offline entrepreneurs found the workshop an eye opener in expanding their businesses for the wider market. The student volunteers on the other hand found the overall experience fulfilling as they were able to give back to the community via knowledge sharing.
Here's to more successful run of 1T1K in the near future with more comm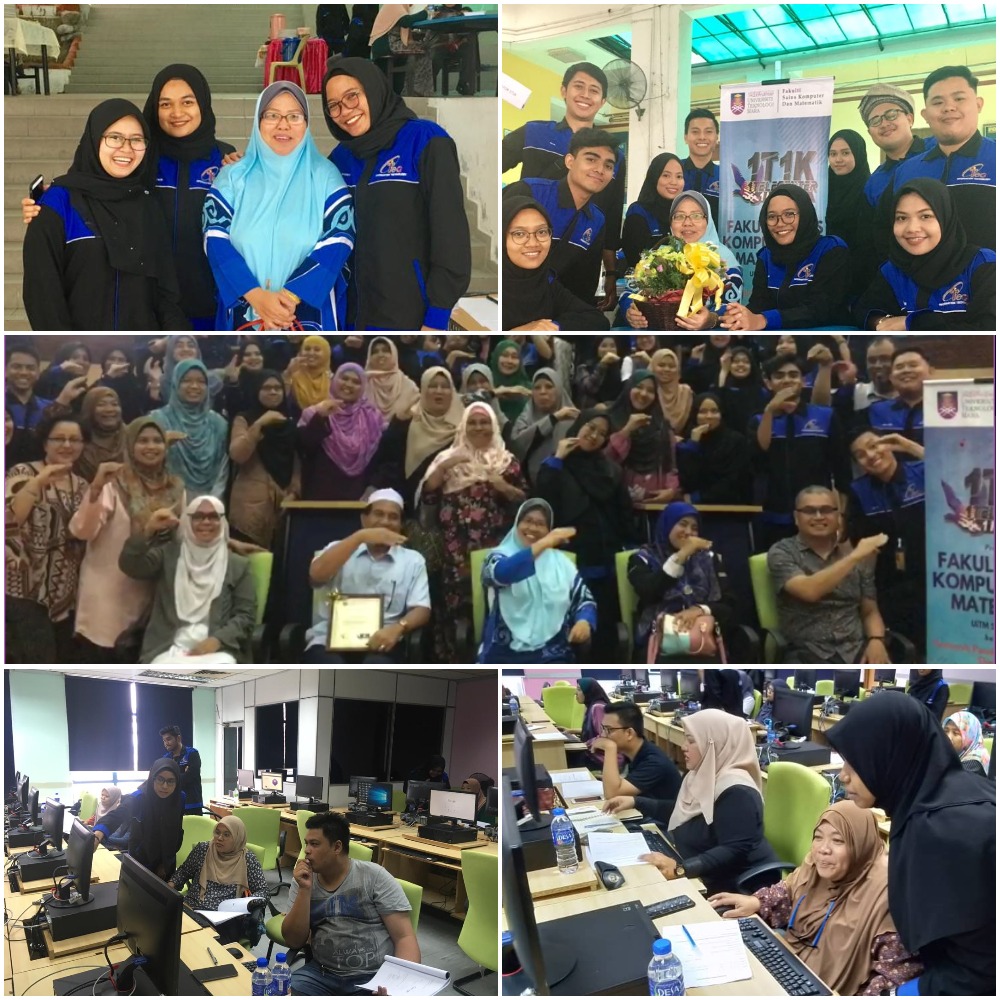 unities, insyaAllah!
Majlis Menandatangani Memorandum Perjanjian (MoA) di antara Universiti Teknologi MARA dan Persatuan Kebangsaan Autisme Malaysia (NASOM)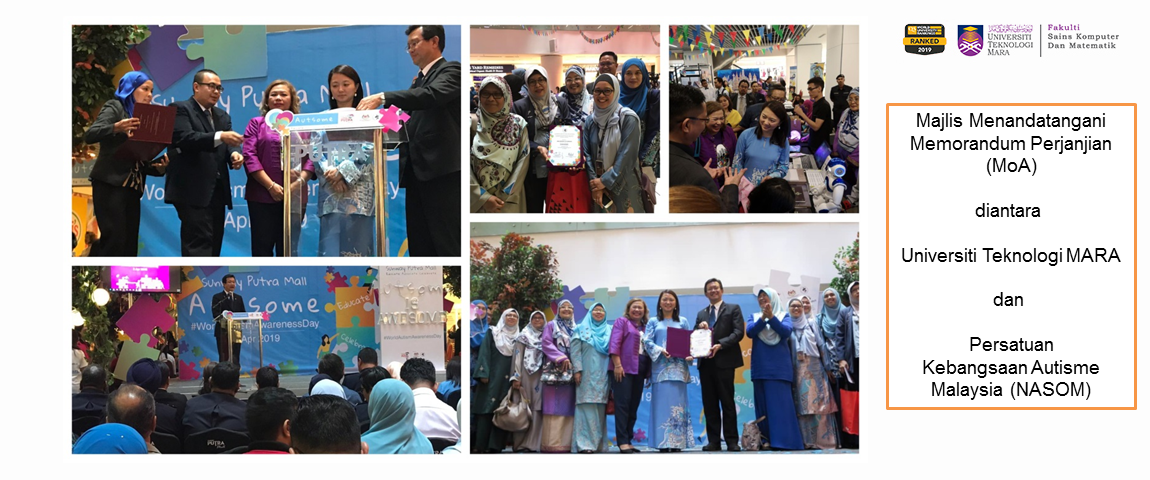 Assalamualaikum dan Selamat Sejahtera,
YBhg. Prof / Dato'/ Datuk/ Datin Paduka / Prof/ Dr/Tuan/ Puan

Majlis Menandatangani Memorandum Perjanjian (MoA) di antara Universiti Teknologi MARA dan Persatuan Kebangsaan Autisme Malaysia (NASOM) telah  berlangsung pada 2 April 2019 di Sunway Putra Mall, Kuala Lumpur. Memorandum ini ditandatangani oleh Profesor Ts. Dr Haji Mohamad Kamal bin Haji Harun, Tmbalan Naib Canselor (Akademik dan Antarabangsa), UiTM dan Puan Feilina binti Muhammad Feisol, Pengerusi Persatuan Kebangsaan Autisme Malaysia (NASOM). Majlis ini telah dirasmikan oleh YB Puan Hannah Yeoh, Timbalan Menteri Pembangunan Wanita, Keluarga dan Masyarakat  bersempena Program  Hari Kesedaran Autism Sedunia 2019. Tujuan MoA ini adalah untuk menubuhkan sebuah pusat setempat maklumat dan pakar rujuk berkenaan perihal data, kepakaran dan penyelidikan berkaitan komuniti autistik di Malaysia bernama National Autism Resource Centre (NARC) yang bernaung di bawah Fakulti Sains Komputer dan Matematik. UiTM Shah Alam. UiTM juga telah menerima Anugerah Penyelidikan Autism sebagai institusi pendidikan tinggi yang terbanyak menghasilkan penerbitan berindeks berkaitan autisme.Turut hadir dalam majlis tersebut adalah Profesor Dr. Hadariah Bahron, Penolong Naib Canselor (Penyelidikan), Profesor Ts. Dr. Haryani Haron, Dekan Fakulti Sains Komputer dan Matematik, ahli NARC dan para penyelidik UiTM. Pihak NARC mengambil kesempatan ini untuk menjemput kakitangan akademik, pentadbiran dan pelajar yang ingin menyumbang tenaga dan melakukan projek, penyelidikan, aktiviti dan khidmat nasihat berkaitan autisme untuk menhubungi kami di talian 03-5543 5330 atau di emel This email address is being protected from spambots. You need JavaScript enabled to view it.
Prof Dr. Nursuriati Jamil SMIEEE, FPECAMP
Pengarah
National Autism Resource Centre (NARC)
Faculty of Computer and Mathematical Sciences
Universiti Teknologi MARA