SKM has successfully organised another community outreach programme on Saturday, 28 April 2019. The award-winning 1 Telecenter 1 Community (1T1K) Outreach Program currently in its 4th cycle reached out to the community of Seksyen 24 Shah Alam and Amanah Ikhtiar Malaysia via entrepreneurial workshop on e-commerce. The workshop was conducted by Pn Nur Atiqah Rochin Demong and Pn Norfadzilah Abdul Razak of Alibaba Global Ecommerce Talent Group, with 21 facilitators comprising our very own student volunteers. The participants whom were offline entrepreneurs found the workshop an eye opener in expanding their businesses for the wider market. The student volunteers on the other hand found the overall experience fulfilling as they were able to give back to the community via knowledge sharing.
Here's to more successful run of 1T1K in the near future with more comm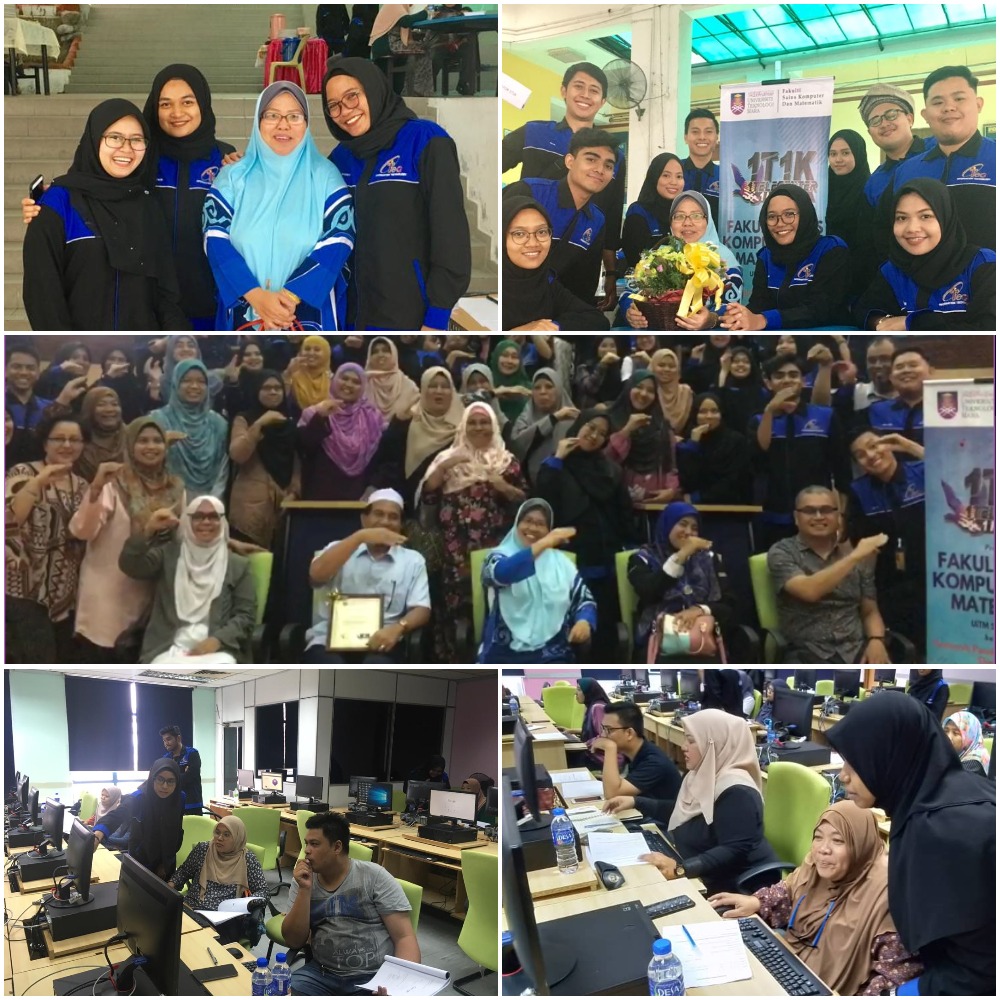 unities, insyaAllah!
SEMINAR KEBANGSAAN INSTITUT STATISTIK MALAYSIA KE-13 (SKISM-XIII) & MESYUARAT AGUNG 
             SKISM XIII telah berjaya diadakan pada 30 Mac 2019 bertempat di Dewan Al-Ghazali, FSKM, UiTM Shah Alam. SKISM adalah merupakan aktiviti ilmiah tahunan Institut Statistik Malaysia (ISM) yang telah diadakan semenjak tahun 2007. Pada tahun 2019, UiTM telah terpilih sebagai menganjur bersama dengan tema "Analitik Data: Peranan Statistik Dalam Penyelesaian Masalah". Tujuan seminar ini diadakan bagi mengumpulkan ahli akademia, penyelidik, saintis dan pengamal industri dari seluruh Malaysia untuk memupuk kerjasama dalam bidang Sains Statistik melalui perkongsian idea dan perbincangan penyelidikan. Disamping itu, Mesyuarat Agong Tahunan ISM juga telah dijalankan yang  bertujuan untuk membincangkan berkenaan halatuju bidang Sains Statistik melalui kegiatan dan aktiviti yang bakal diadakan bagi merancakkan lagi peranan ISM dan Universiti awam dan swasta serta sektor kerajaan dan industri dalam memberi sumbangan kepada masyarakat dan negara. Dalam seminar ini, ucapan perasmian oleh YBhg. Dato' Sri Dr Mohd Uzir Mahidin, Ketua Perangkawan Malaysia  telah disampaikan oleh Timbalan Perangkawan Malaysia Puan Nazaria Bt Baharudin. Majlis juga telah dimeriahkan dengan ucapan dari dua penceramah jemputan iaitu  Prof Dr Abdul Aziz  mewakili ahli akademik dan Puan Fatimah Almah Saaid yang merupakan Data Scientist Telekom Malaysia bagi mewakili pengamal industri. Sesi pembentangan selari turut diadakan melibatkan 14 abstrak kertas kerja. SKISM juga telah diserikan dengan Booth Pameran oleh Jabataan Statistik Malaysia (DOSM) yang diketuai oleh En William Chin.
Diharap dengan penganjuran SKISM 2019 di FSKM dapat membuka ruang bagi mempertingkatkan hubungan kolaborasi dan budaya ilmiah antara penyelidik, cendekiawan, ahli akademik dan pengamal industri.  
Jawatankuasa SKISM 2019 merakam setingggi-tinggi penghargaan kepada pihak Pengurusan FSKM, ISM, DOSM, pembentang kertas kerja dan semua peserta di atas sokongan dan kerjasama dalam menjayakan SKISM 2019.
"Bersama Memasyarakatkan UiTM" Nukilan:
Dr Norshahida Shaadan – Pengerusi SKISM 2019
Event Review on ASEAN Next 2019: Technology Driven for Community Happiness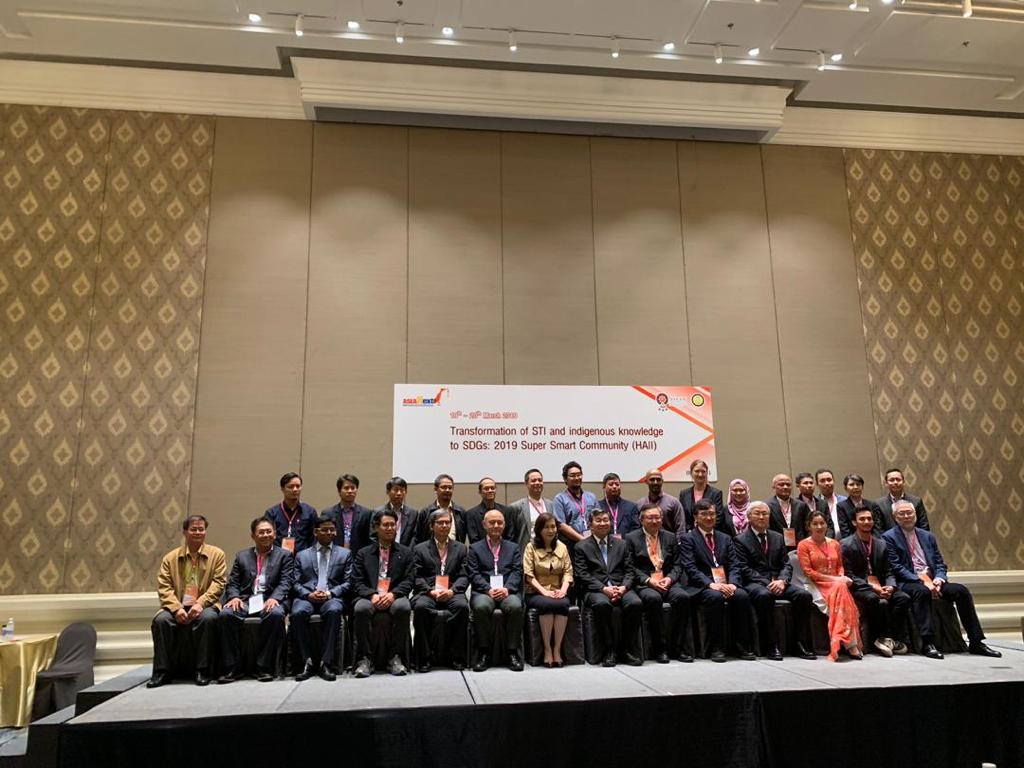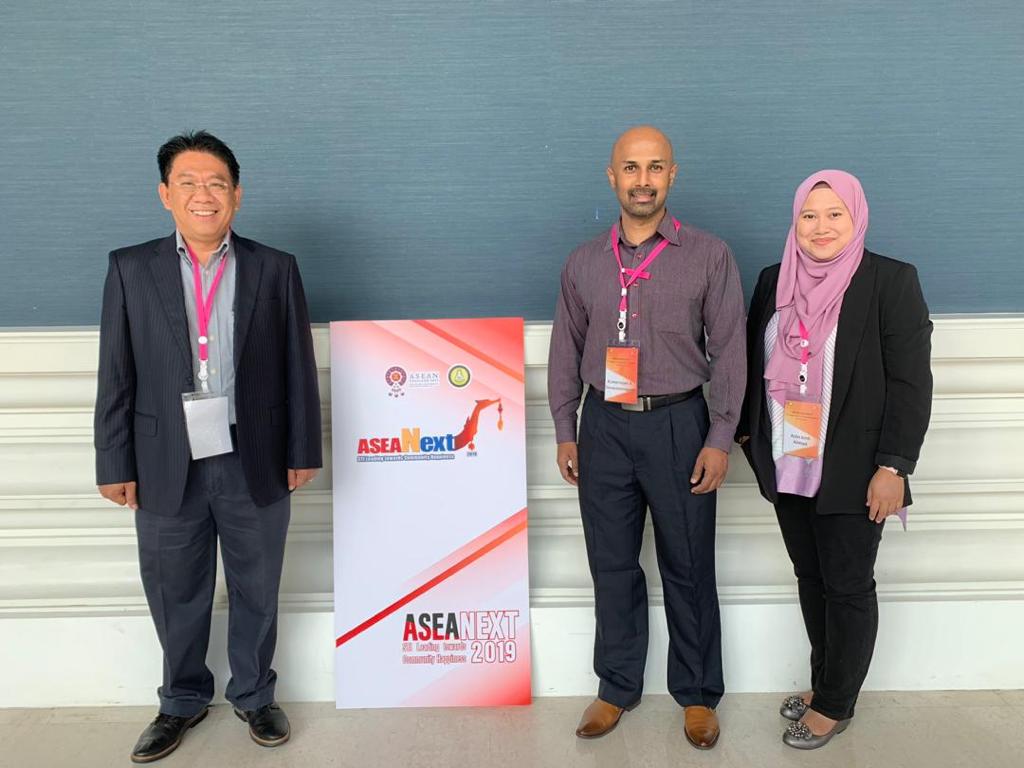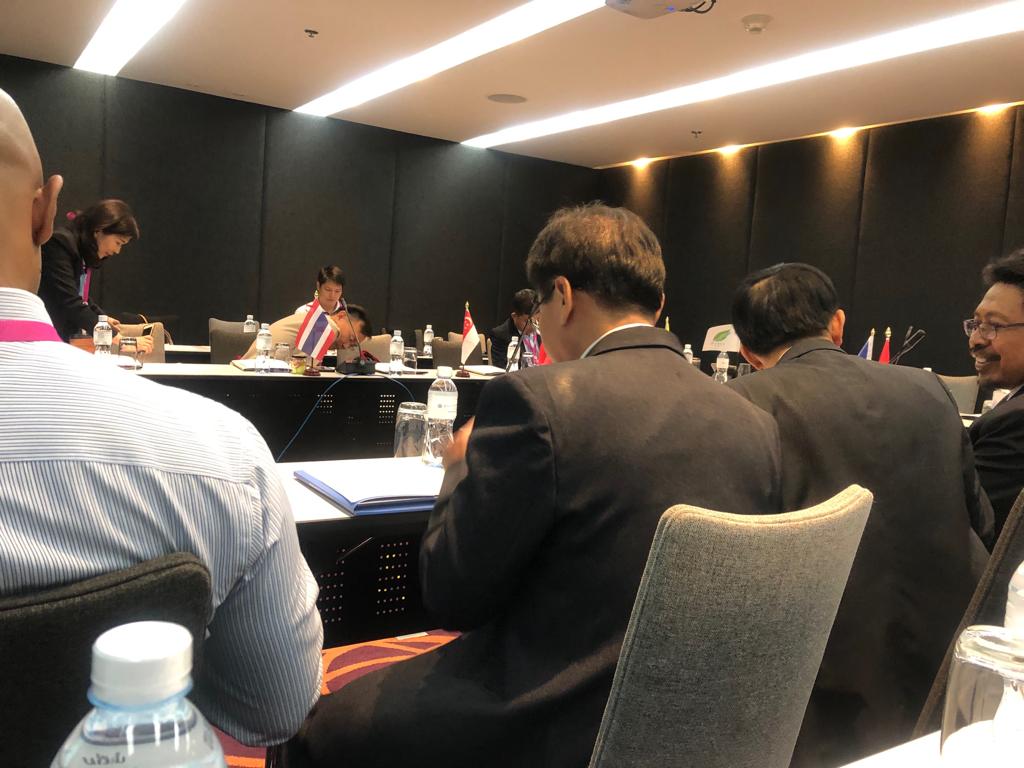 The ASEAN Next 2019: Technology Driven for Community Happiness event was hosted by the Ministry of Science and Technology (MOST), Thailand in collaboration with Hydro and Agro Informatics Institute (HAII). The prestigious event took place at Pullman Bangkok King Power Hotel, Thailand from 18-22 March 2019. We are immensely proud that our very own Dr Azlin Ahmad from Advanced Analytics Engineering Center (AAEC), FSKM has been appointed as Key Opinion Leader for the 1st ASEAN Hydroinformatics Data Centre (AHC) which was held in conjuction with ASEAN Next 2019.
Throughout the program, Dr Azlin provided her expertise and key insights in:
"ASEAN Hydroinformatics Data Centre (AHC) Meeting 2019" which aims to introduce and create understanding on AHC to all members, where each participant are expected to provide the recommendation and contribution to AHC and form the action plan of AHC
"Workshop on Transformation of STI and Indigenous Knowledge to SDGs: 2019 Super Smart Community" which aims to promote the integration of STI, SMART Community and Sustainability from the success stories towards Sustainable Development Goals
Apart from Dr Azlin, there were two other representatives from Malaysia nominated and selected as Lead Member and Key Opinion Leader for Malaysia. They are:
Prof. Dr Edy Tonnizam Mohamad from Centre of Tropical Geoengineering, University Teknologi Malaysia (Lead Member)
Dr Kumeresan A. Danapalasingam from Center for Artificial Intelligence & Robotics, Universiti Teknologi Malaysia (Key Opinion Leader) 
The ASEAN Hydroinformatics Data Centre (AHC), proposed by Hydro and Agro Informatics Institute (HAII), Thailand, is initiated based on experiences of Thailand's disaster in 2011 which left severe impairments to the country's economy and society.  As a result, Thailand established "National Hydroinformatics and Climate Data Centre – NHC" to integrate water and weather information from 35 government agencies over the country. The data is well gathered and easy to access, transmit, and transfer to inform policy makers and end-users accurately promptly. In this regard, AHC, as a scale-up initiative of NHC, could be an integrated platform for regional data sharing, technology matching, and capacity building on the implementation of Science and Technology to tackle climate change and water/weather-related disaster risk reduction for the ASEAN country. We believe that Dr Azlin has the experience and tenacity to contribute in the advancement of ASEAN Hydroinformatics Data Centre (AHC) Well Done Dr Azlin!
Majlis Menandatangani Memorandum Perjanjian (MoA) di antara Universiti Teknologi MARA dan Persatuan Kebangsaan Autisme Malaysia (NASOM)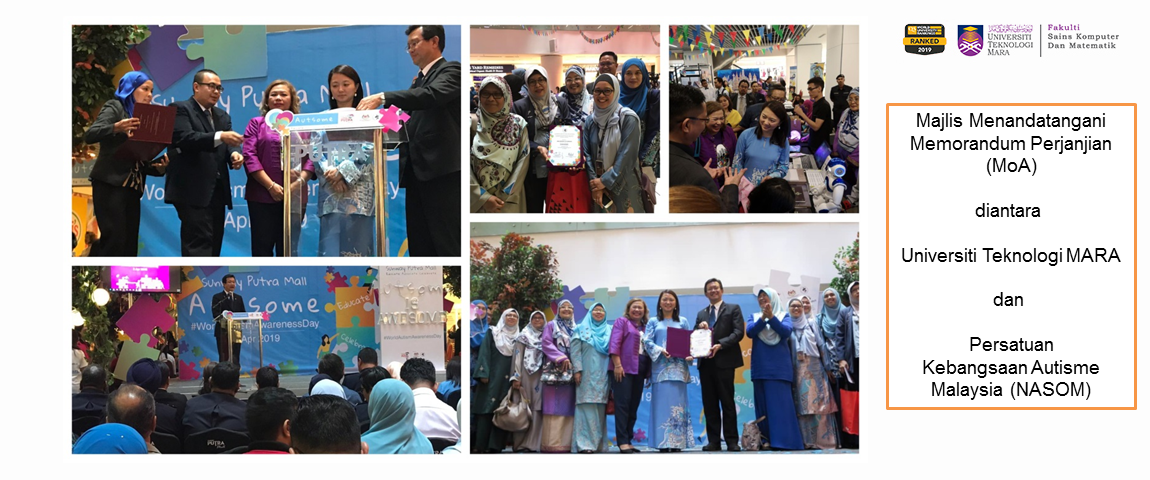 Assalamualaikum dan Selamat Sejahtera,
YBhg. Prof / Dato'/ Datuk/ Datin Paduka / Prof/ Dr/Tuan/ Puan

Majlis Menandatangani Memorandum Perjanjian (MoA) di antara Universiti Teknologi MARA dan Persatuan Kebangsaan Autisme Malaysia (NASOM) telah  berlangsung pada 2 April 2019 di Sunway Putra Mall, Kuala Lumpur. Memorandum ini ditandatangani oleh Profesor Ts. Dr Haji Mohamad Kamal bin Haji Harun, Tmbalan Naib Canselor (Akademik dan Antarabangsa), UiTM dan Puan Feilina binti Muhammad Feisol, Pengerusi Persatuan Kebangsaan Autisme Malaysia (NASOM). Majlis ini telah dirasmikan oleh YB Puan Hannah Yeoh, Timbalan Menteri Pembangunan Wanita, Keluarga dan Masyarakat  bersempena Program  Hari Kesedaran Autism Sedunia 2019. Tujuan MoA ini adalah untuk menubuhkan sebuah pusat setempat maklumat dan pakar rujuk berkenaan perihal data, kepakaran dan penyelidikan berkaitan komuniti autistik di Malaysia bernama National Autism Resource Centre (NARC) yang bernaung di bawah Fakulti Sains Komputer dan Matematik. UiTM Shah Alam. UiTM juga telah menerima Anugerah Penyelidikan Autism sebagai institusi pendidikan tinggi yang terbanyak menghasilkan penerbitan berindeks berkaitan autisme.Turut hadir dalam majlis tersebut adalah Profesor Dr. Hadariah Bahron, Penolong Naib Canselor (Penyelidikan), Profesor Ts. Dr. Haryani Haron, Dekan Fakulti Sains Komputer dan Matematik, ahli NARC dan para penyelidik UiTM. Pihak NARC mengambil kesempatan ini untuk menjemput kakitangan akademik, pentadbiran dan pelajar yang ingin menyumbang tenaga dan melakukan projek, penyelidikan, aktiviti dan khidmat nasihat berkaitan autisme untuk menhubungi kami di talian 03-5543 5330 atau di emel This email address is being protected from spambots. You need JavaScript enabled to view it.
Prof Dr. Nursuriati Jamil SMIEEE, FPECAMP
Pengarah
National Autism Resource Centre (NARC)
Faculty of Computer and Mathematical Sciences
Universiti Teknologi MARA
LAPORAN PENYERTAAN KONTIGEN IIDEX FSKM 2018
FAKULTI SAINS KOMPUTER & MATEMATIK
Pengenalan
FSKM telah menyertai Pertandingan Invention, Innovation & Design Exposition 2018 (IIDEX2018) yang dianjurkan oleh UiTM pada 24hb Sept. 2018 (Isnin). Sebanyak 10 kumpulan telah dipilih hasil dari saringan yang diadakan di fakulti pada 10hb Ogos 2018 (Jumaat) .
Keputusan
Daripada 10 kumpulan, 5 kumpulan telah berjaya menggondol pingat emas, 2 perak dan 3 ganga. Senarai terperinci, ada di lampiran. 
Dimaklumkan di sini, tiada kumpulan dari kontigen FSKM yang menyertai acara Business Matching semasa berlangsungnya IIDEX 2018.
Penambahbaikan yang dicadangkan
Secara keseluruhan , semua kumpulan berhasrad untuk menambah baik produk masing-masing dari segi penambah baikan  algorithm, pembangunan system, daripada PC based kepada android base dan algorithm untuk user egion of interest (ROI). Untuk tujunan tersebut, penambahan dana di perlukan.
Lampiran:
Senarai pemenang dan gambar.
Disediakan Oleh:
Dr Siti Arpah Bt Ahmad
Koordinator penyelidikan
Lampiran 1 SENARAI PEMENANG
GOLD (5 kumpulan)
Musyarakah Mutanaqisah Investment Calculator
Ketua: Maheran Mohd Jaffar
Ahli: a) Shaiful Bakhtiar Rodzman
b) Nur Azureen Ab Aziz
MUDIR 2.0: PREMIUM SEARCH ENGINE FOR MALAY HADITH
Ketua: Normaly Kamal Ismail
Ahli:
a) Nurazzah Abdul Rahman
b) Shaiful Bakhtiar Rodzman
c) Nurul Syeilla Syazhween Zulkefli
d) Zulhilmi Mohamed Nor
Interactive tools for Pre-writing activities
Ketua:Norizan Mat Diah
Ahli: a)Halizatul Fairuz Mohamed Anom
         b)Noor Latiffah Adam
c) Ahmad Saufi Mohd Amin
EmoLah: A Real-Time Spontaneous Speech Emotion Recognitiob
A) Pm Dr Nursuriati Jamil
B) Dr Mohd Izzad Ramli
C) Dr Raseeda Hamzah
D) PM Dr Norizah Ardi
StageCan: Breast Cancer Staging Classification
1) Rohana Embong
2) Mohamad Hiqal bin Sanuddin
3) Muhammad Shahhir bin Md Ali
SILVER (2 kumpulan)
Photovoltaic Data Relationship Exploration in Visual Analytics
Ketua: Zainura Hj Idrus
Ahli: a) Hedzlin Zainuddin
b) Zanariah hj Idrus
c) Laura Christ Dass
d) Muhamad Mukhzani Muhamad Hanifah
Portfolio Optimization: Withdrawal Option of EPF Members' Investment Scheme
Ketua: Aida Yuzi Yusof
Ahli:
a) Syazreen Niza Shair
b) Shamshimah Samsuddin
c) Arwin Idham Mohamad
d) Sharifah Nazatul Shima SM Shahruddin
BRONZE (3 kumpulan)
Augmented reality (AR) Featured Fashion Catalog.
      a)Zarina Zainol.                    
b) Siti Arpah Ahmad.  
c) Adzhar Abd Kadir
d) Rozita Yunos
Nitrogen Fertilizer Recommender System (NitroSys)
Ketua: Shuzlina Abduil Rahman
Ahli: a) Mohd Soffi Abd Razak
b) Sofianita Mutalib
c) Zalilah Abd Aziz
d) Mohd Razif Shamsuddin
i-Hadir: Lecturer Attendance System.
a) Prof Dr Hajah Azlinah Hj Mohamed
b) Kamarularifin Abd Jalil
c) Ruhaila Maskat
d) Ajis Abbas