🌸 WIRASA 2019 SERLAHKAN BAKAT ANDA!!! 🌸
🎨Apa itu WIRASA?
🎗 WIRASA adalah pertandingan yang dianjurkan oleh Pusat Kebudayaan UiTM Shah Alam melibatkan pertandingan kesenian dan kebudayaan yang akan berlangsung pada 1-20 April 2019.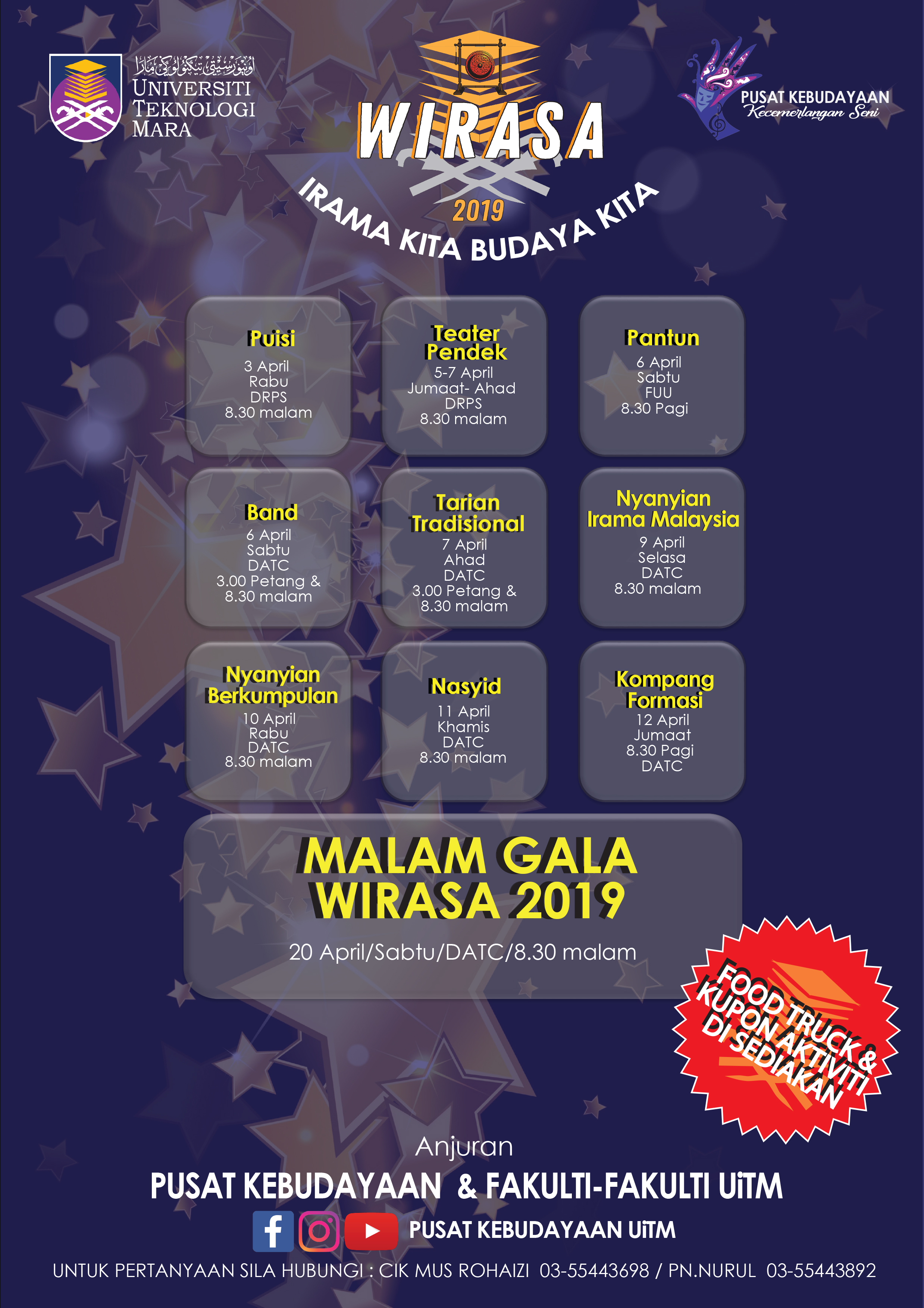 Jom daftarkan diri anda, melalui ws no dibawah 🤗
📌Sertakan nama, no matrik anda
*Nasyid🎤:*
(Syed Umar)
wasap.my/60193623940
*Kompang🥁:*
(Hafidz Haqeem)
wasap.my/601123279144
*Puisi🎙:*
(Siti Norkilawati)
wasap.my/60148304819
*Pantun📜:*
(Nur Hazirah)
wasap.my/60103236701
*Teater Pendek📽:*
(Fakri)
wasap.my/601135774309
💢 Nasyid, Kompang dan Teater Pendek hanya terbuka kepada LELAKI sahaja
✨ Syarat penyertaan:
Terbuka pada _pelajar ACIS UiTM Shah Alam sahaja_
📌 Tarikh Tutup Pendaftaran: 18/3/2019 (Isnin)
#WIRASA2019
#ACISONTHERIGHTAXIS
3MT Competition
Assalamualaikum dan Selamat Sejahtera,
Satu competition yang diberi nama 
3 Minutes Thesis
 akan berlangsung esok:
Tarikh: 1 March 2019 (Jumaat)
Masa: 2:30 - 5:00pm
Tempat: DAG
Competition ini terbuka kepada semua pelajar-pelajar Falsafah Kedoktoran yang telah melalui  Defence of Research Proposal. Pemenang- pemenang akan bertanding di peringkat UiTM, nasional dan seterusnya di peringkat International yang akan diadakan di Auatralia.
Semua di jemput hadir bagi memberi sokongan kepada pelajar-pelajar kita. 
Terima Kasih
Zainura Hj Idrus
019-3483588
1180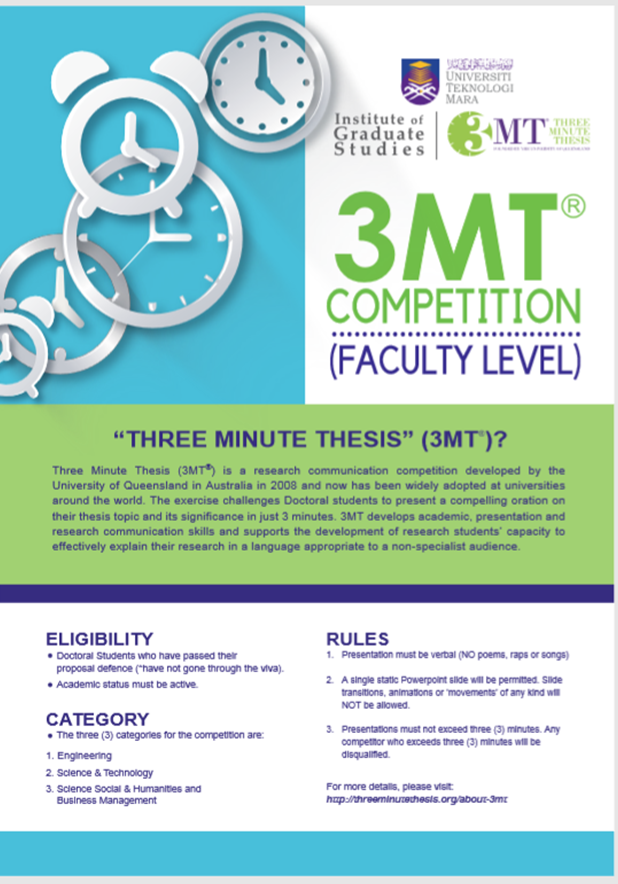 Program 'We Care, We Listen'
Assalamualikum wbt
Tuan / Puan

Di Maklumkan bahawa Pihak Pusat Kerjaya & Kaunseling dengan kerjasama HEP FSKM untuk mengadakan program outreach bertemakan 'We Care, We Listen' seperti cadangan di bawah ;
Tarikh : 7 Mac 2019 (Khamis)
Tempat : Laman Najib, Fakulti Sains Komputer dan Matematik (FSKM)
Masa : 9.30 pagi -12.30 tengahari
Objektif : (a)Membantu memberi kesedaran pelajar tentang kesan dan bahaya pengambilan dadah
(b) Membimbing pelajar menggunakan teknik art therapy untuk mengekspresi tekanan dan emosi
(c) Membantu pelajar meningkatkan pengetahuan tentang persediaan kerjaya melalui permainan
Aktiviti : Informasi bahaya dadah, Art therapy Expressive Corner & Career Games
Peralatan : Meja (4 unit) , Kerusi ( 20 unit)
Justeru itu, mohon kerjasama dari pihak tuan / puan untuk mengwar - warkan program tersebut kepada seluruh warga dan pelajar FSKM
Perhatian dan kerjasama daripada pihak tuan didahulukan dengan ucapan terima kasih.
Sekian.
AAEC Big Data Training 2019: Time Series Forecasting with R
Dear Prof /Assoc.Prof /Dr. /Sir /Madam,

Advanced Analytics Engineering Centre(AAEC) and Faculty of Computer and Mathematical Science (FSKM), UiTM Shah Alam will be conducting AAEC Big Data Training 2019 : Time Series Forecasting with R

1. Workshop :  Time Series Forecasting with R  
    Date        : 11 March 2019 - 12 March 2019
    Venue      : Big Data Lab, Level 1, CS1, Faculty of Computer and Mathematical Sciences(FSKM), UiTM Shah Alam, Selangor
    Trainer     : Dr. Suhartono - Institut Teknologi Sepuluh Nopember(ITS), Indonesia
    Fees        : UiTM Staff / Students - RM500 (Early Bird),
                     Public - RM550  (Early Bird),
                     Public - RM600 (Normal)
We would like to invite you to register the workshop via this link: 
1. Time Series Forecasting with R Form.
If you have any inquiries, please contact our Big Data Training committee:
Pn. Ezzatul Akmal : 03-55211214 / 011-35243224
Pn. Nur Huda Nabihan:  03-55435373 / 013-3638484
Kind Regards,
AAEC Big Data Training 2019 Committee
https://aaec.uitm.edu.my/