Dear Prof./Assoc. Prof./Dr./Mr./Ms.,

CALL FOR PAPER :
THE 4th INTERNATIONAL CONFERENCE ON SOFT COMPUTING IN DATA SCIENCE 2018 





We welcome you to participate in the Fourth International Conference on Soft Computing in Data Science 2018 (SCDS2018) which will be held in Chulalongkorn University  from 15-16 August 2018. The theme of the conference is 'Science in Analytics: Harnessing Data and Simplifying Solutions'. SCDS2018 have invited renowned international and local keynote speakers who are academia or practitioners to share their knowledge and experience in the area in the applications of soft computing in various disciplines. This conference aims to provide a platform for researchers and practitioners to share their research work and to create rigorous international research collaborations.

 

SCDS2018 targets participants from universities, government agencies and industries with the ultimate aim of bridging the gap between academia and the industry. Research collaborations between the academia and industry can lead to the advancement of useful analytics and computing applications for providing real time insights and solutions.

All accepted and registered papers of SCDS2018 will be submitted to be indexed in Communications in Information Science (CCIS) series by Springer Verlag.

Authors of accepted papers to SCDS2018 will be invited to extend their papers for:
a book chapter in upcoming volume entitled Supervised and Unsupervised Learning for Data Science, to be published by Springer, or
Fast Track Submission to Applied Soft Computing, Elsevier. (IF=3.541)
Submission to Malaysian Journal of Computing (http://mjoc.uitm.edu.my)
Welcome to The 4th INTERNATIONAL CONFERENCE ON SOFT COMPUTING IN DATA SCIENCE 2018 (SCDS 2018)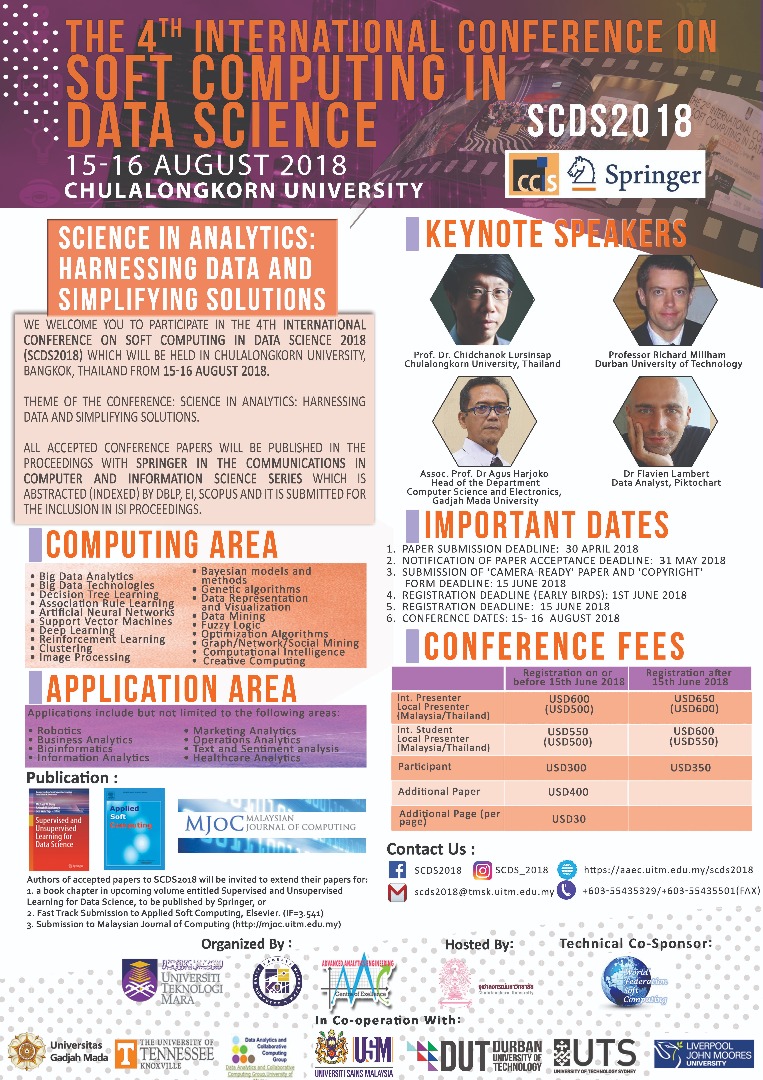 We look forward to your participation.
Thank you.
Best regards,
SCDS2018 Conference Chair
https://aaec.uitm.edu.my/scds2018/
Faculty of Computer and Mathematical Sciences
Universiti Teknologi MARA
40450 Shah Alam
Selangor, Malaysia
Tel: +603-55435420/5329/5461
Fax: +603-55435501