CS112 DIPLOMA IN ACTUARIAL SCIENCE / DIPLOMA SAINS AKTUARI
Programme Description / Penerangan Program
This programme has the following objectives:
• To produce graduates who can fulfill the demand of the financial services industries especially the insurance industry.
• To produce graduates with the analytical and scientific method skills in the field of actuarial science.
Entry Requirement / Syarat Kemasukan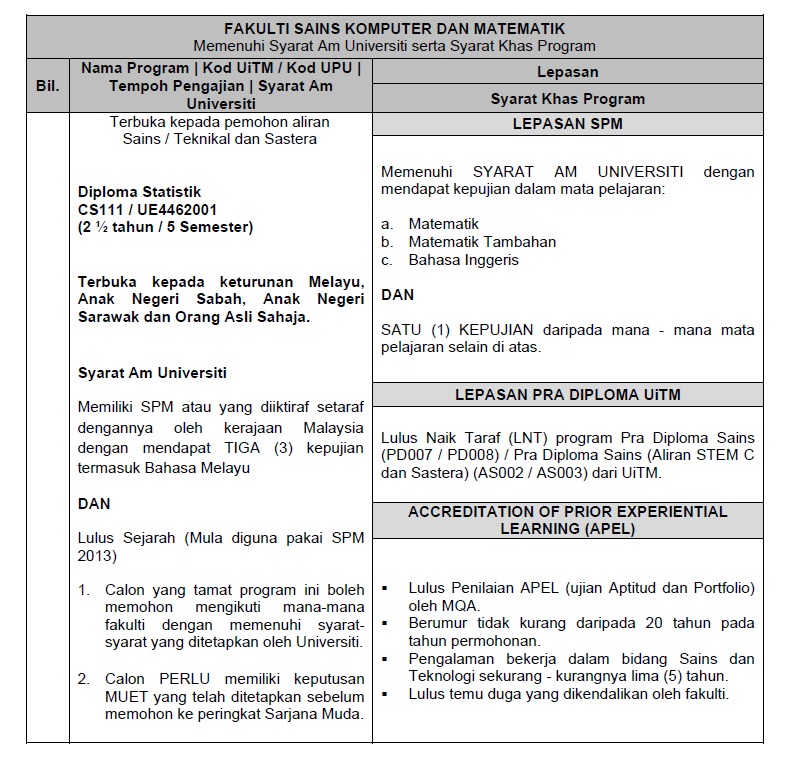 Further information, please contact:
Puan Aida Yuzi Yusof
Koordinator Sains Aktuari
Tel: 03-55435510
Course Detail / Perincian Kursus
Course Outline
Semester 1 Year 1
Calculus I, Principle of Risk Management and Insurance, Fundamental of Computer Science, Financial Accounting, Man and Religion, Integrated Language Skills I, Co-Curriculum I
Semester 2 Year 1
Calculus II, Introduction to Statistics and Probability, Fundamental of Computer Problem Solving, Microeconomics, Islamic Thought and Civilization, Integrated Language Skills II, Co-Curriculum II
Semester 3 Year 2
Calculus III, Mathematical Statistics I, Fundamental of Management, Macroeconomics, Fundamental of Takaful, Integrated Language Skills III, Co-Curriculum III
Semester 4 Year 2
Linear Algebra I, Mathematical Statistics II, Financial Mathematics, Introduction to Actuarial Science, Fundamental of Regression Analysis
Semester 5 Year 3
Introduction to Actuarial Mathematics, Operations Research, Personal Financial Planning, Fundamental of Entrepreneurship, Introduction to Time Series Analysis and Forecasting
Job Opportunities / Peluang Pekerjaan
Majority of the diploma holders are absorbed by the public and the private sectors such as insurance companies, banks and other financial institutions like security firms. Their tasks include handling statistical investigations.