Programme Description / Penerangan Program
The Master of Data Science is a three-semester program giving in-depth knowledge of data-driven science which is an interdisciplinary field about scientific methods, processes, and systems to extract knowledge or insights from data in various forms, either structured or unstructured. The program aims to produce data professionals who are passionate about drawing meaningful insights from data using data science approach. The program is designed to provide you good analytical and programming skills to use data science from data storage, data analytics to practical applications with the aim of improving business or organization performance.   
Entry Requirement/ Syarat Kemasukan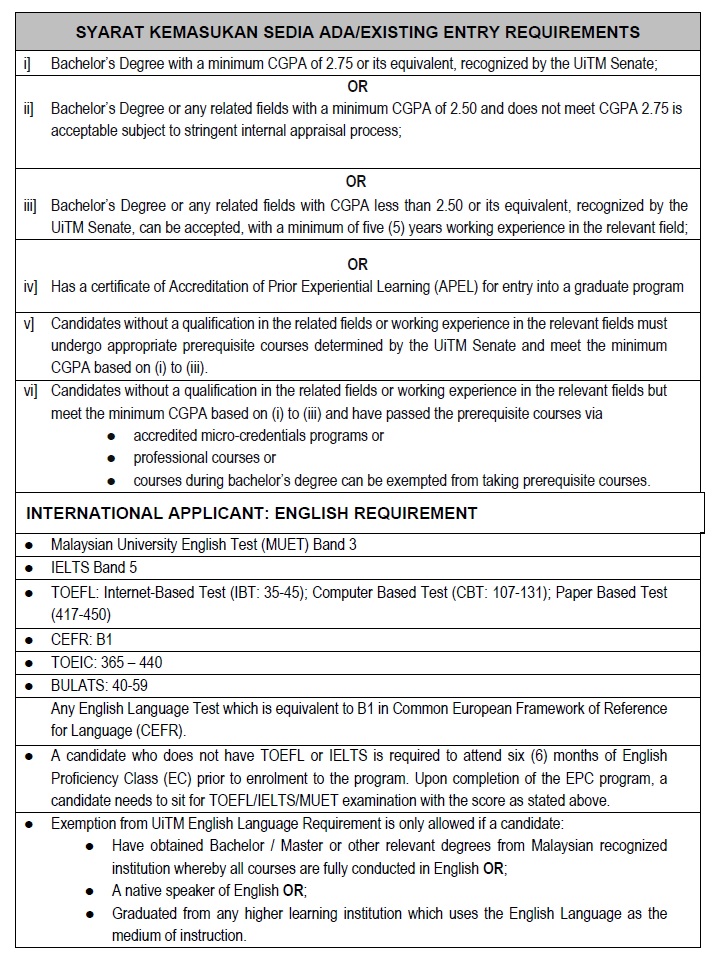 Further information, please contact:
Dr Sofianita Mutalib
Koordinator Program CS779
Tel: 03-55211203
Course Detail / Perincian Kursus
Semester 1
Enterprise Data Analytics
Advanced Data Organization
Research Methodology
Statistical Computing
Semester 2
Statistical Data Mining
Advanced Data Science Technology
Seminar and Industry Engagement
Elective 1*
Semester 3 
Data Science Project
Elective 2*
Elective 3*
*Students will be allocated to ONE of the four tracks and select elective courses from the given tracks.
Track 1: Computing
Optimization with Natured Inspired Computing
Data Visualization
Text Analytics
Track 2: Statistics
Time-series modelling and Forecasting
Applied Statistical Modelling
Applied Multivariate Analysis
Track 3: Business
Customer Analytics
People Analytics
Operations Analytics
Track 4: Geo-Spatial
Advanced GIS,
Geo-spatial Analysis and Modelling,
Geo-visualization
Mode and Duration / Mod dan Jangka Masa
Mode of Study
Coursework
Duration of Study
Full Time  : 3-4 semesters
Part Time : 4-8 semesters
Accreditation/ Akreditasi