Programme Strength
The programme is designed to strengthen graduates existing skills and experiences with advancement in knowledge and technological capabilities in the area of strategic business and technology management. The graduates will be able to complement their strengths of business environment with affluence curriculum offering and be able to recognize solutions to business problems and opportunities.
Entry Requirement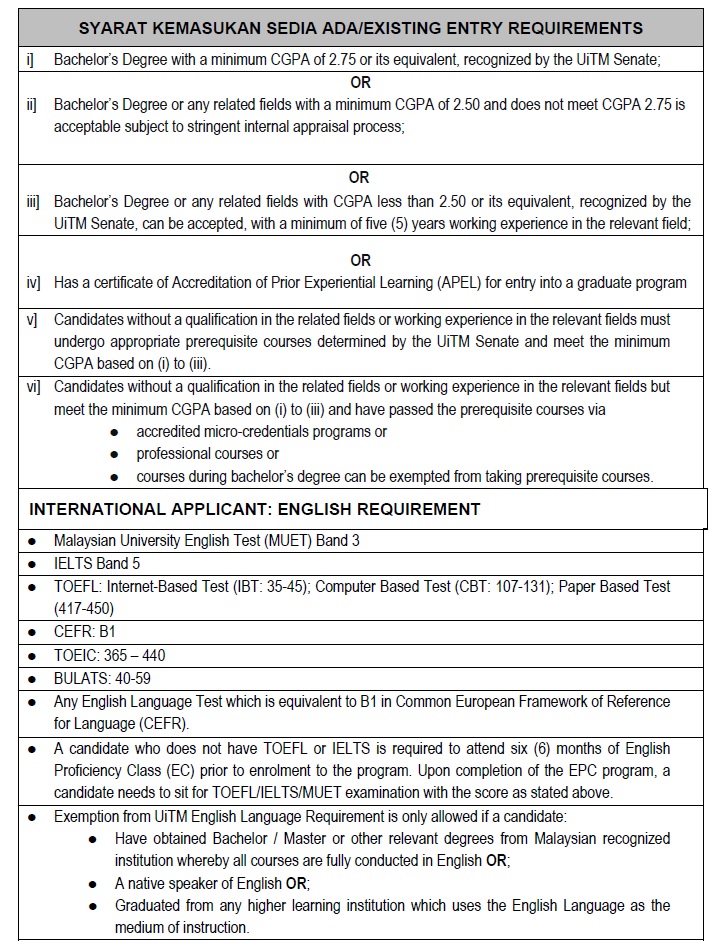 Further information, please contact:
Dr Syaripah Ruzaini Syed Aris
Koordinator Program CS733
Tel: 03-55211216
Course Detail
Research Methods in Computing
Organizational Behaviour
Information Systems Strategic Planning
Information System Project Management
Shaping IS Projects
Enterprise Wide e-Business
Advanced Decision Support System
Managerial Finance
Strategic Marketing Management
Computing Project
Choose 3 Elective Courses
Elective Courses
ICT Economics
Enterprise Systems Engineering
IS Governance Seminar in Global Issues
IT Risk Management in Enterprise Environment
Advanced Information Systems
Information Security Management
Duration & Intake
Duration
Full Time – 3-4 semester
Part time – 4-6 semester
Intake
September Intake Only
Programme's top academic facilities provided
The programme offers state-of-the-art teaching facilities such as smart classrooms and specialized computing laboratories such as Intelligent Information Systems lab, Big Data lab, and others to extend learning capabilities to students. 
Student's experience, Job & Opportunity
Graduates will have the opportunity to heighten their career advancement in many industries including academic field. They may further their careers in the existing industry that they are in or proceed to embark into different industry especially in the area of the industrial research, or the digital job market as IT specialists, IT manager, and Business Analyst. The graduates are able to join any business driven industry, as they are equipped with strong strategic business management essentials.
The programme embraced and facilitated collaboration with Amazon Web Services (AWS), Rapidminer, and Microsoft. These mutually beneficial partnerships served the students, lecturers, and the companies to provide certification, training, software with support, and produce ground-breaking research. The industry also assists in developing an industrially driven curriculum. 
Learning flexibility & Professional Certification
Potential students interested in this course have the choice to experience well-designed activity-based learning, collaborative projects with a supportive community through Massive Open Online Courses (MOOC).
Programme Uniqueness
There is more than 50% of lecturers in this centre of studies holding a Ph.D. qualification and awarded as a Technologist by MBOT. On top of that, some of the lecturers have been certified by professional certification such as the Alibaba Global E-Commerce Talent (GET), the Certified Professional for Requirement Engineering (CPRE), Certified Amazon Web Services (AWS) Cloud Practitioner (CLF) and SAS Business Visual Analytics. These qualifications serve as a stronghold that gives reputation and uniqueness to the Centre of Information Systems Studies.
Accreditation/ Akreditasi