CS248 BACHELOR OF SCIENCE (HONS.) MANAGEMENT MATHEMATICS / SARJANA MUDA SAINS (KEPUJIAN) MATEMATIK PENGURUSAN  
Infographic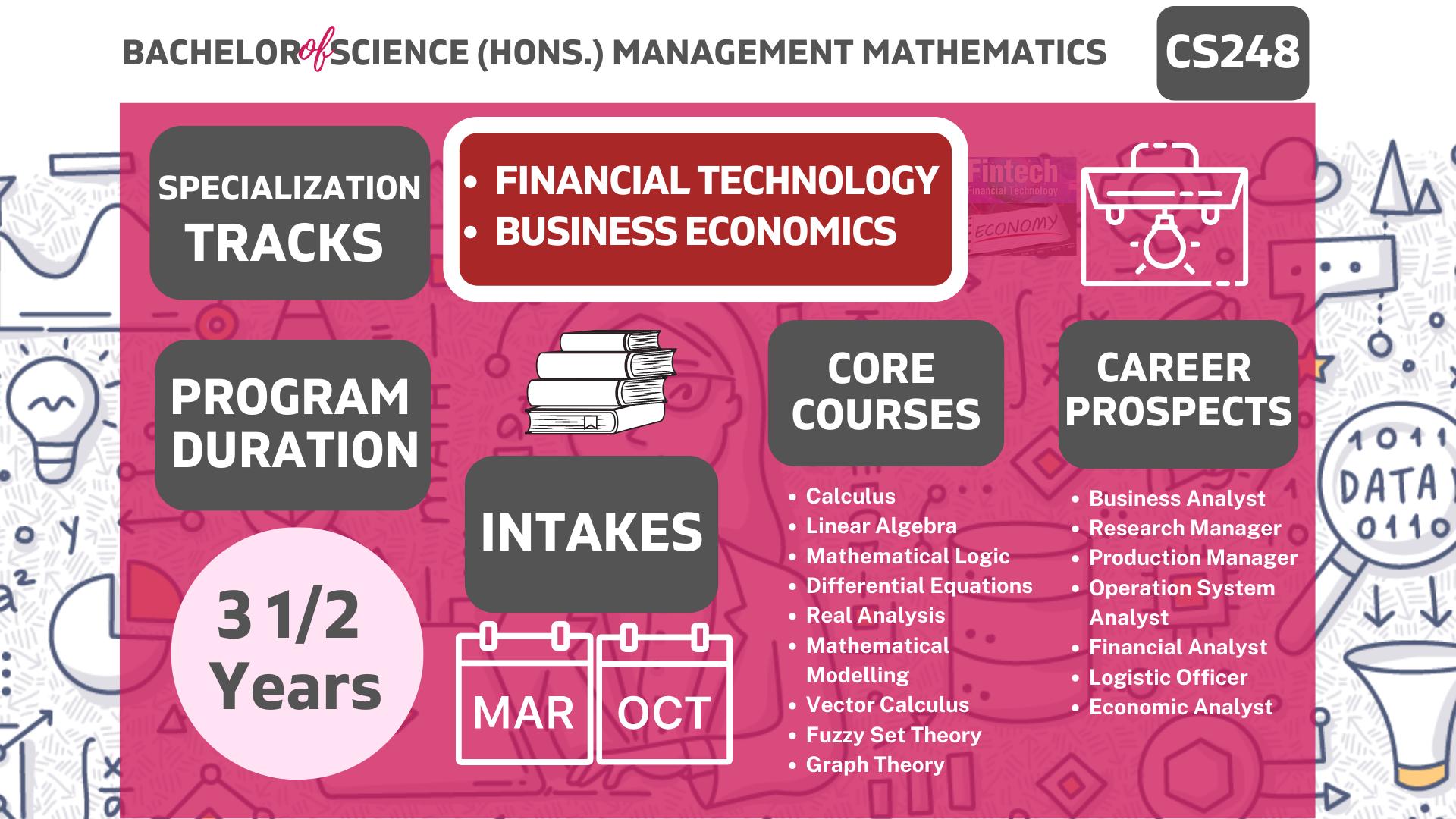 Programme Description / Penerangan Program
A Mathematics programme that offers Financial Technology and Business Economics tracks. The strong mathematics skills and ICT applications provided will nurture innovative graduates in business and management.
Entry Requirement/ Syarat Kemasukan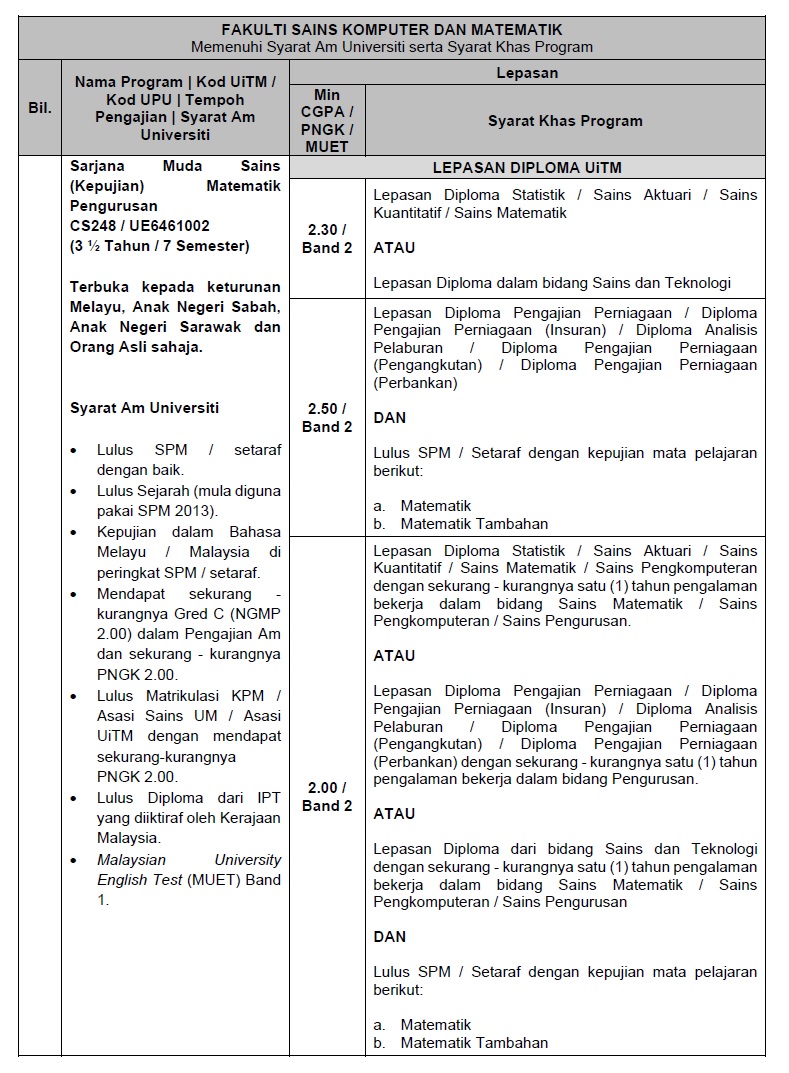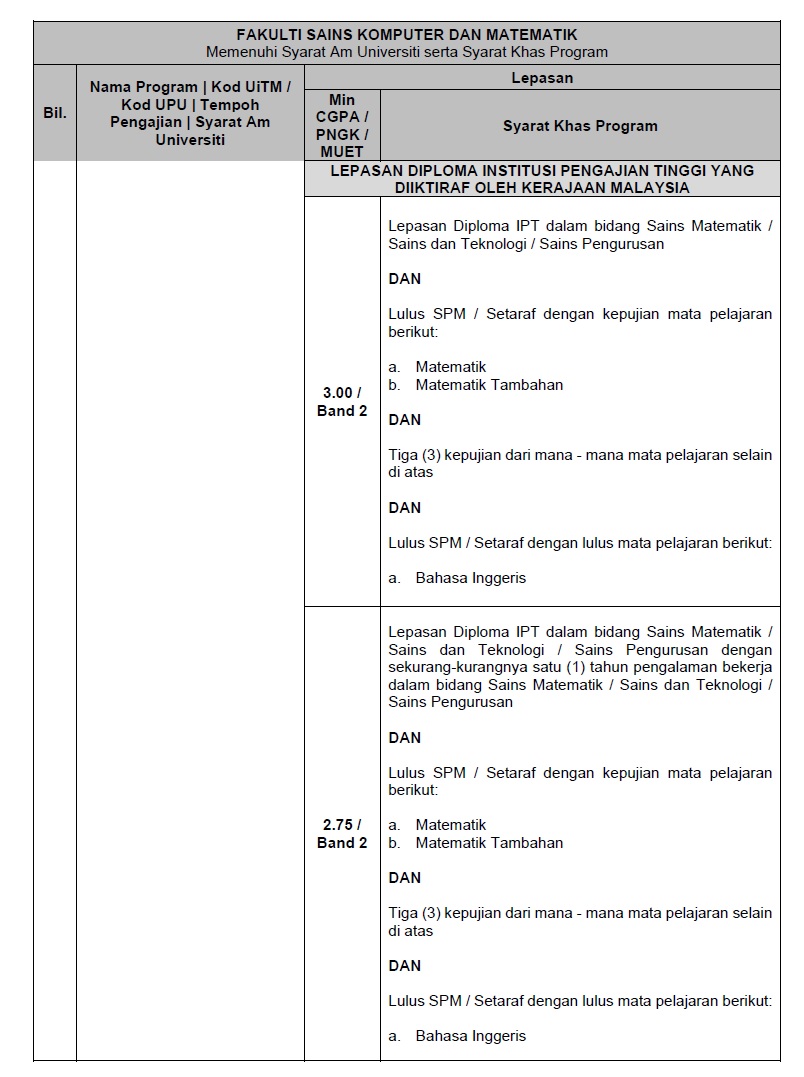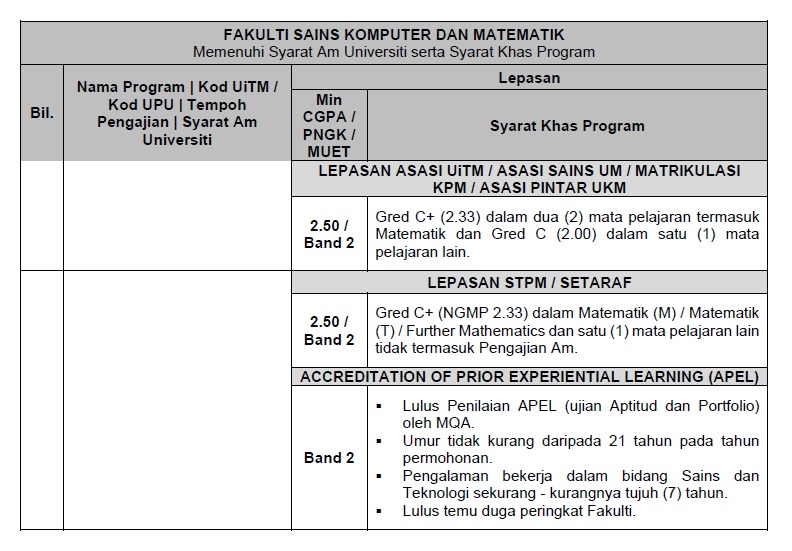 Further information, please contact:
Dr Zuraida Alwadood
Koordinator Matematik
Tel: 03-55435417
Course Detail / Perincian Kursus
Semester 1 Year 1
Co-Curriculum I, Islam and Asian Civilization, Calculus I, Linear Algebra I, Fundamentals of Computer Problem Solving, History & Philosophy of Science, Introduction to Financial Accounting & Reporting
Semester 2 Year 1
Co-Curriculum II, Malaysian History, Third Language I, Calculus II, Mathematical Logic and Proving Techniques, Linear Algebra II, Economics.
Semester 3 Year 2
Co-Curriculum III, Third Language II, Calculus III, Ordinary Differential Equations, Probability and Statistics, Ordinary Differential Equations, Principles and Practice of Management, Econometrics, English for Critical Academic Reading.
Semester 4 Year 2
English for Professional Interaction, Mathematical Economics, Real Analysis, Introduction to Management, Operational Research, Time Series and Forecasting, Third Language III
Semester 5 Year 3
English for Report Writing, Corporate Finance, Risk and Insurance, Introduction to Mathematical Modelling, Vector Calculus, Fuzzy Set Theory, Introduction to Marketing
Semester 6 Year 3
Technology Entrepreneurship, Islamic Business Transaction, Graph Theory and Application, Final Year Project, Simulation
Semester 7 Year 4
Industrial Training
Job Opportunities / Peluang Pekerjaan
Graduates have the opportunity to apply for positions such as: Business Analysts, Research Managers, Production Managers, Operations Systems Analyst, Research Analysts, Financial Analysts, Managers, Logistic Officers and Economics Analysts.