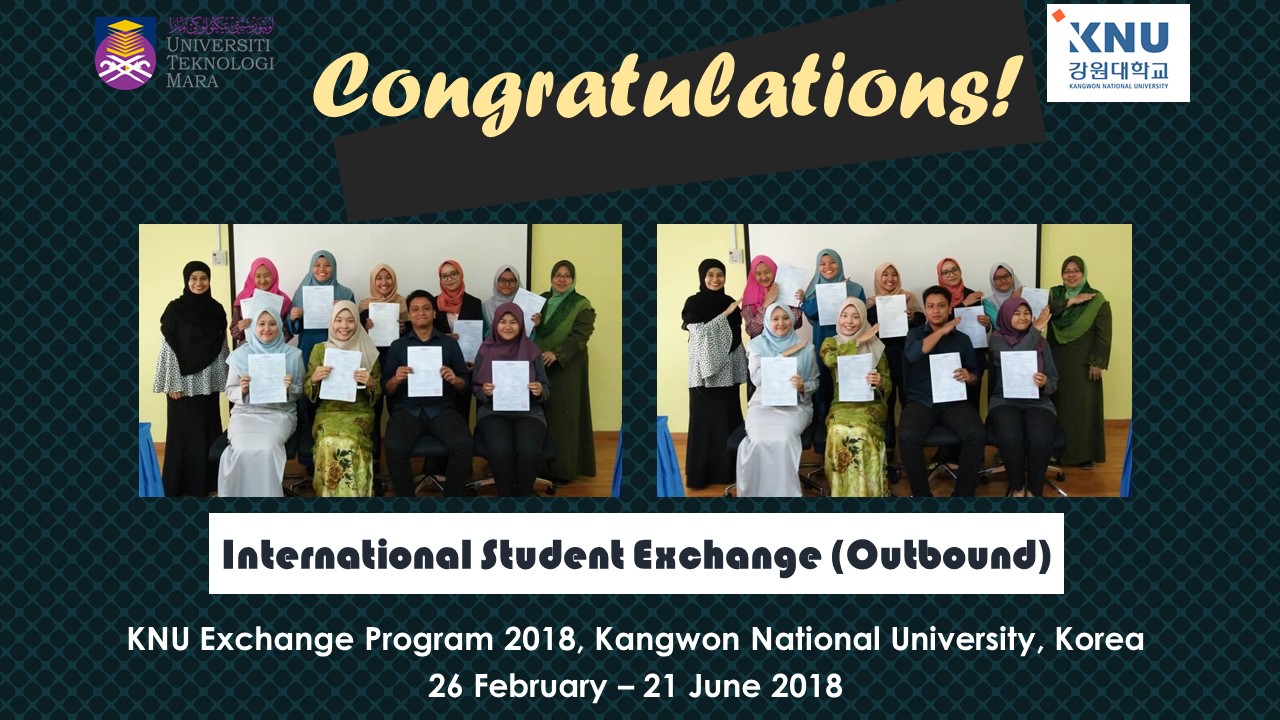 It is with immense pride and pleasure to announce that 9 students from the Faculty of Computer and Mathematical Sciences (FSKM) have been offered to join Kangwon National University (KNU) Exchange Program for the upcoming 2018 Spring Semester.

The students are from various Bachelor programme. We convey our heartiest congratulations to:

1. CS240 - Bachelor of Information Technology (Hons.)

Muhammad Imran Mohd Nor Hilmi
Noor Farah Eliana Abdullah
Nur Ayu Shamira Liman
Nur Izzati Abdul Rahim

2. CS249 - Bachelor of Science (Hons.) Mathematics

Nur Shahirah Amin
Nur Hawa Nabiha Mazlan
Nor Ain Sham
Nurul Syajaratul Aini Mohd Zin

3. CS241 - Bachelor of Science (Hons.) Statistics

Nurul Syahirah Amirah Zulkarnain

Students will begin their journey as exchange student and FSKM Global Ambassador from 26 February to 21 June 2018. The students are very excited and eager in making their preparations despite their busy exam schedule. Let's make Doa for them, may Allah ease their preparation and everything will run smoothly, InsyaAllah.

Well done to the lecturers and students who have made this a success, charting yet another milestone of FSKM in Excellence.