WORKSHOP SPEAKER
---
Ts Haslinda Rasip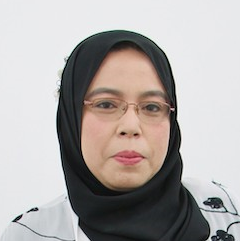 Ts. Haslinda Rasip serves as the Chief Technology Officer for Dropee, a 20-year technology veteran with expertise in software development, system architecture, user experience, design and strategy, design thinking, knowledge management, instructional design, training, e-learning implementation, and project management. Linda designs the Dropee roadmap, leads Dropee's Engineering and Product team, and works closely with customers and partners. Linda believes in data-driven strategies and implementation for business and technology. With an entrepreneurship and technical background, she is a confident leader who seeks strong technical skills and shrewd business sense to inspire and lead the company. With the combined knowledge of business, strategies, technology, market trends, and education to influence the advancement of company goals. She has established long-lasting relationships throughout her career and maintains these relationships to diversify perspective and collect valuable information. Linda earned her Bachelors of Science Degree in Computer Science from Universiti Teknologi Malaysia (UTM), majoring in Software Engineering, in the year 2000. She later completed her Masters in Information Management at Universiti Teknologi Mara (UiTM) in 2006 while holding down her first job. She is currently pursuing her Doctorate in Business Administration from Universiti Teknologi Malaysia (UTM). She provides an end-to-end advisory service to tech-based start-ups on business analysis, requirement capturing, UX design, development, project management, testing, deployment, and optimization. She is a high-energy leader known for quickly solving problems and delivering efficient and scalable solutions.
LinkedIn: https://www.linkedin.com/in/lindarasip

Title: UX Design Workshop with Golden Circle and Business Model Canvas
Date: 13 Sept 2021.
Time: 2.00pm to 3.30pm (MYT GMT +8)

Descriptions: To create a product/services that are compelling and injected human-centred designed values, it is important to understand user needs and business perspectives. To date, the Business Model Canvas by Alexander Osterwalder and The Golden Circle by Simon Sinek enjoys large popularity amongst start-ups, entrepreneurs, and established organizations. It is a tool to validate a business idea in giving a more detailed look at the customer needs and the values of your product and services should create. Golden Circle and Business Model Canvas is no strange to UX/UI designers as this is a common tool used in UX/UI design workshops for the designers to identify the feasibility of the solution, ideas articulations, and generation and design consensus towards requirements building. This information is the foundation of UX/UI design of a good product/service deliverable. But like mixing cooking ingredients in reality, it's not really that simple. Hence this 2-hours workshop covers a walkthrough on how the concept of Golden Circle and Business Model Canvas is actualized with a real case study illustration. The participants will also get hands-on with these tools to get better insights into the process!